Code Purple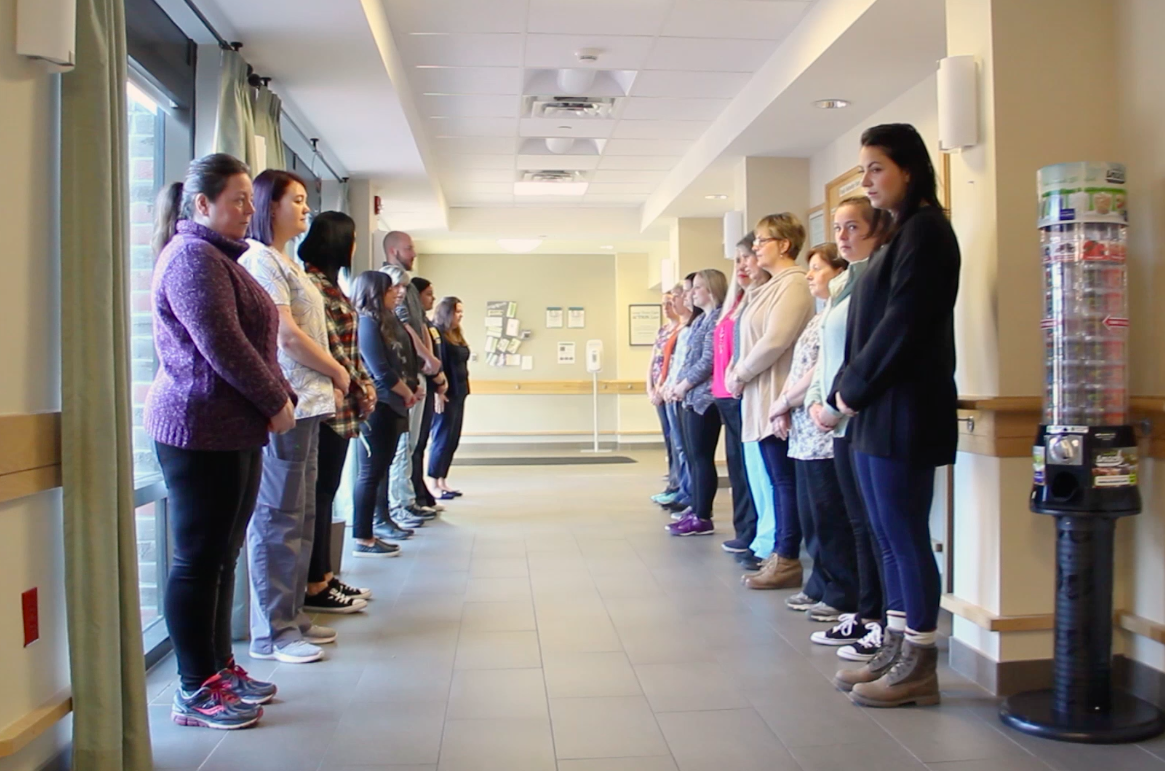 "CAMA is where the elderly come to gift us with their dying."
I had the great privilege of participating in a Code Purple recently, upstairs at our CAMA Woodlands Long-term Care home. Nancy has been spending time up there, as she works on a video project for school. She is aspiring to capture and communicate the beauty that still exists at the end of life – at a time and stage of life where we tend to throw people away or write them off.
For those of you who don't know what a Code Purple is, it is the term given to the event of walking a deceased body out of the Home.
I have to admit, that I had mixed feelings about going upstairs to participate in this Code Purple. When Nancy came to my office and said, "Follow me, we're going upstairs" I didn't even question why. I trust Nancy, and so I followed. When I realized the purpose of our visit that morning, I was faced with this uneasy feeling, that maybe I didn't have a right to be there, and yet I felt compelled to keep going. In the end, I'm glad I did because I got to see Jesus.
Upstairs, the nurses and staff gathered quietly and lined both sides of the hallway. Standing reverently, whispering amongst themselves, they patiently waited. It felt to me as if a hush had fallen over the Home. I stood against the wall and glimpsed down the corridor. I could see the grief on the faces around me; the tears some were fighting, gathering in their eyes. Preparing themselves for a goodbye to a Resident they had come to know and care for.
Nursing is more than an occupation, it's a vocation; a calling given to us by our own sweet Jesus. These women and men don't just come into work each day to bring home a paycheque; what they do is woven into the fabric of their lives. As such, the lines between their job duties and the relationships they build with the residents become blurred. Their hearts open to the people who call CAMA Woodlands home. And so, when death separates the dead from the living on this present earth, they feel the loss of those relationships, those faces, those souls.
There is no moving on from CAMA Woodlands, apart from death.
This is where humanity comes to breathe their last breaths. This is where we have an opportunity to honour, care for, and show respect to people in their most vulnerable stage of life. This is also where the elderly come to gift us with their dying. To gift us with the opportunity to care for Jesus. To wait on Jesus. To stroke the hand and hair of Jesus. To feed Jesus. To bathe Jesus. To dress Jesus. To tuck Jesus into bed. To listen to Jesus. To speak with Jesus. To smile with Jesus. To laugh with Jesus. And yes, to be and work and love in the presence of Jesus.
We could hear the gurney being pushed down the hall towards us before we could see it coming. When it rounded the corner, I was struck by the intimacy of the image I saw before me. A beautiful handmade quilt had been laid carefully over the body. The gurney was being moved by the funeral home workers, and the family, a daughter and her husband, were following behind with our Chaplain, Sharlene.
The daughter took a moment to pause prior to walking through the rows of people and looked into the faces of those who had cared for her mother. "I want to thank each and every last one of you" she said, going on to express her heartfelt gratitude for the love, care, respect, and gentleness that had been offered to her mom during her year at the Home. Thanking everyone who had gathered in that corridor for making this last year of her mother's life one of the happiest. Through her tears she shared a sad smile for the nurses and staff, then alongside Sharlene, proceeded down the hall and out the double doors to the waiting vehicle.
It was a sombre quiet group that dispersed at that point. I returned to my office, and tried to refocus on my work, but I couldn't stop thinking about the beauty in what I had just witnessed. I can only describe it as a circle of honour. The nurses and staff honouring the deceased, the family honouring the nurses and staff. Jesus present in the middle of it all, so clearly yet so softly, making Himself known. "Love one another, just as I have loved you"[1], He told us. "For I was hungry, and you fed me. I was thirsty, and you gave me a drink. I was a stranger, and you invited me into your home. I was naked, and you gave me clothing. I was sick, and you cared for me. I was in prison, and you visited me … I tell you the truth, when you did it to one of the least of these my brothers and sisters, you were doing it to me!"[2] We tend to think about being Jesus to others, but not so often think about those others as being Jesus to us. If we saw Jesus in the faces of everyone around us, regardless of age or ability, regardless of gender, ethnicity, or sexual orientation – regardless of whatever it is that may make us different – how much differently would we minister to those we meet? Would we smile more? Practice more patience? Act more politely? Would we be more gentle, more affirming, trust more? Would we allow room and opportunity for others to flourish, and seek out their giftings, and celebrate along with them in whatever it is that they offer as part of the body of Christ?
I have been reminded that when Jesus asks if we love Him, and we most vehemently affirm that it is so, He then asks us to live into that love by feeding and caring for His lambs and His sheep.[3] The beauty of God's love shared between people, through people, being lived out in the flesh to people. As a District, as a Denomination, as a family, as the Church, to be able to provide such a loving caring space for someone at the end of their earthly journey is a deep privilege, and a great honour. Jesus is not only at work here, Jesus resides here.
[1] John 15:12 (NASB)
[2] Matthew 25:35-36, 40b (NLT)
[3] Referencing the verses of John 21:15-18